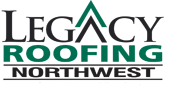 Legacy Roofing Northwest is the premier residential roof replacement division of America 1st Roofing & Builders, Inc. We are a locally-owned business with branches located in Mukilteo and Auburn, Washington.
We are a drug-free company and our roofers are company employees dedicated to the highest standards of craftsmanship, safety, and customer service. That's why we can stand behind every roof with our lifetime Gold Standard™ Warranty.
We buy many of our roofing materials directly from manufacturers and stock our Mukilteo and Auburn yards for immediate availability. Our fleet of trucks and equipment, including mobile office vans and roof-loading conveyors, empower us to give you more efficient service compared to most local roofing companies.
Because America 1st Roofing & Builders, Inc has been a registered contractor in the State of Washington since 1986, you can rest assured there's no residential reroofing project in the Puget Sound region that we can't handle.